We are an organisation that supports those most marginalised within the community. We try to bring creative tools to table to support the needs of all in our community.
We deliver various training and services to support and aid the maintenance of mental health well-being and recovery.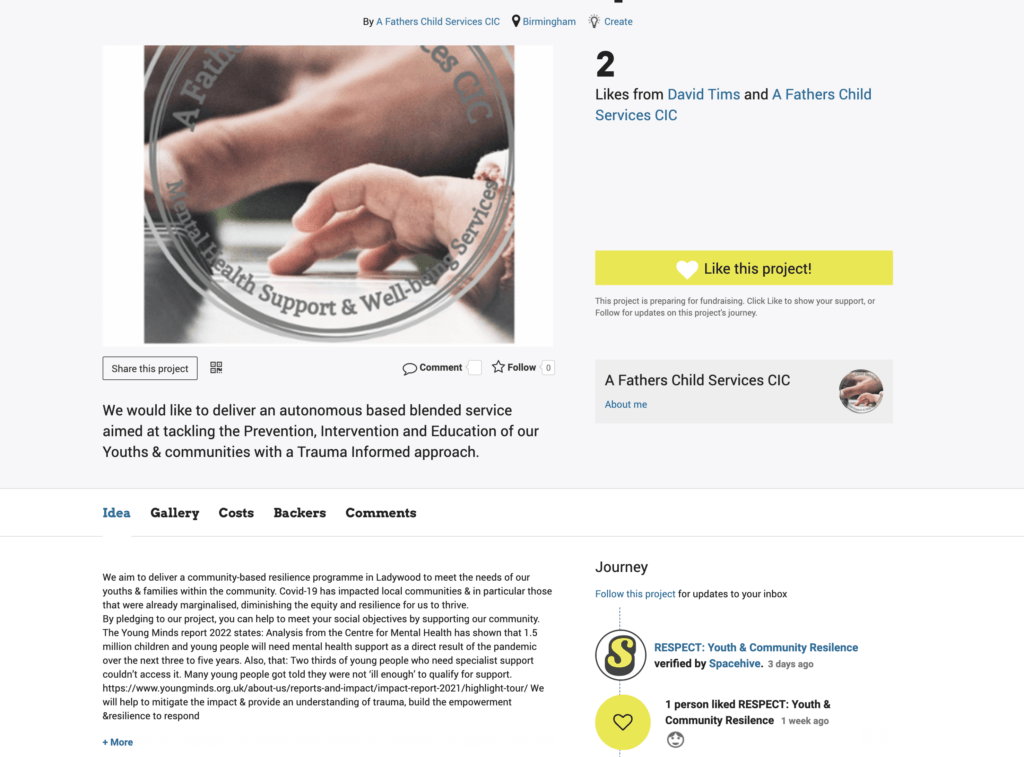 Project Owner: A Fathers Child Services CIC
The Project Owner takes legal responsibility for receiving and spending the funds raised and ensuring the project is delivered.
We would like to deliver an autonomous based blended service aimed at tackling the Prevention, Intervention and Education of our Youths & communities with a Trauma Informed approach.
We aim to deliver a community-based resilience programme in Ladywood to meet the needs of our youths & families within the community. Covid-19 has impacted local communities & in particular those that were already marginalised, diminishing the equity and resilience for us to thrive. By pledging to our project, you can help to meet your social objectives by supporting our community.
The Young Minds report 2022 states: Analysis from the Centre for Mental Health has shown that 1.5 million children and young people will need mental health support as a direct result of the pandemic over the next three to five years. Also, that: Two thirds of young people who need specialist support couldn't access it. Many young people got told they were not 'ill enough' to qualify for support.
https://www.youngminds.org.uk/about-us/reports-and-impact/impact-report-2021/highlight-tour/
We will help to mitigate the impact & provide an understanding of trauma, build the empowerment &resilience to respond
What we'll deliver:
Advocacy: Empowerment in youths & Community members ability to self advocate
2. Counselling for Adults and Young people in educational settings or community
3. Empowerment & Resilience workshops to build community equity and resilience
Why it's a great idea:
It will provide community members with new skills on how to assert themselves as we support to advocate, we will encourage self-advocacy. We can help them to build skills to encourage understanding of the issues they may face as well as resilience. By delivering Drama and Creative arts workshops we will allow communities to express themselves in a creative way, & the research shows that art can have a huge impact on helping to alleviate stress and symptoms of depression. Our counselling & mentoring sessions will provide that therapeutic space to address the emotional resilience & self-esteem issues that may be linked with our community's adverse childhood experiences and poor coping strategies that may have been born out of their circumstances. We bring HOPE in times of adversity.
Steps to get it done:
Securing volunteers with our local universities to help with the cost of the project
Identifying 2 schools in our area that will benefit and collaborate with us to build the resilience of their children
Research shows that young people that are excluded from schools are mainly boys, who are at a higher risk of suiciding, those from mixed or Black ethnic groups who are already marginalised and impacted by poor housing and links to mental health. Older children which means disrupting their chance of further education and exposing them to more risk in terms of being groomed or exploited by gangs. Also, those who had additional learning needs (SEND/ASN/ALN), eligibility for free school meals (FSM) and those who have Child in Need (CiN) status, so those that are already quite vulnerable. Research shows that, children & young people who were excluded from school were more likely to have behavioural difficulties, difficulties with peers and attention difficulties. Most importantly, those who were excluded also had lower scores for positive wellbeing, emotional strengths and skills and support networks.
Our programme of resilience is a trauma informed holistic approach bringing HOPE.