Step Out Of Your Comfort Zone
Ladies, it's time to make a difference join The Nubian Team (TNT) as we take you on a journey of self discovery with our second session!
BOOK YOUR FREE TICK CLICK HERE
To download and share the flyer as a PDF Click Here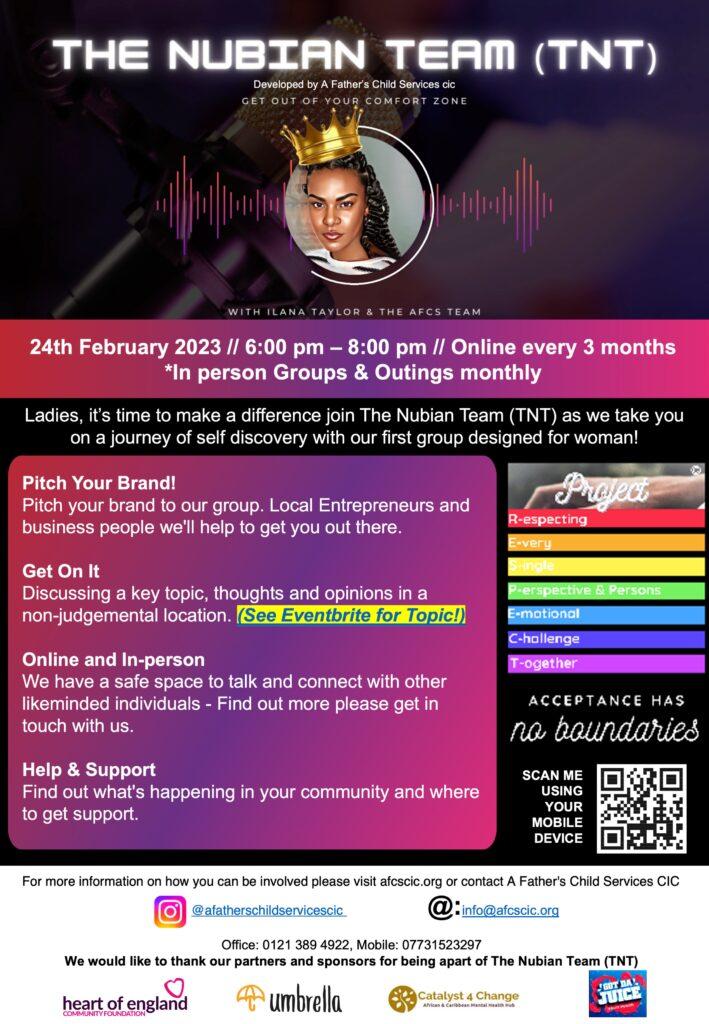 Pitch Your Brand!
Pitch your brand to our group. Local Entrepreneurs and business people we'll help to get you out there.
Get On It
Discussing a key topic, thoughts and opinions in a
non-judgemental location. (See Eventbrite for Topic!)
Online and In-person
We have a safe space to talk and connect with other likeminded individuals – Find out more please get in touch with us.
Help & Support
Find out what's happening in your community and where to get support.
Let's speak the unspoken and stand firm in who we are and what we do!
Our organisational Project to breakdown the narrative of mental health is called RESPECT which stands for: Respecting, Every, Single, Perspective/Person's, Emotional, Challenge, Together.
We hope that embodying RESPECT we can make this Podcast/Group a safe space to be genuine, to cry, to hurt, to deal with shame and all the things that life throws at us, including the 'Inequalities' that impact women.
Our Women's group is launching thanks to the support of Heart Of England that have funded the project. It will consists of three strands:
Quarterly online podcast
Face to face workshops
Community events, so 'Watch this space' for future updates!
We will have 'Well Women Packs' as guest give aways in our online competitions and face to face groups.
Sadly , Black women we are 4 times more likely to die in pregnancy or giving birth than our white counterparts.(BBC, 2022)
45% of Black women working in white-collar jobs in the UK believe they will be overlooked for promotion despite having equal competence as a non-Black female colleague. (Black Women In The UK Workplace Online)
All of these intersectionalities will have an impact on our Mental Health.
We will discuss the issues that raise the uncomfortableness, while facilitating a safe space that we can Support and Empower each other. Most importantly RESPECT each other. Respecting, Every, Single, Perspective/Person's, Emotional, Challenge, Together.
How to join the event:
BOOK YOUR FREE TICK CLICK HERE
Or give us a call office: 0121 389 4922, Mobile: 07731523297
We hope to see you on the day!
We would like to thank our partners and sponsors for being apart of The Nubian Team (TNT)
Heart of England, Umbrella, Catalyst 4 Change, Got Da Juice
Special Thank You
Dear members thank you, for all the positive feedback and follow ups you have given.
The picture and message was from a member that attend the first TNT session.
"Had a Fabulous time on the walk this morning. Lovely to meet you all, looking forward to next time. Got home and opened the "little goody bag" As Letisha Gordon called it. Nothing little about it lots of treats to use!! Thank you so much."